ChatCheck is a stand alone program which can be used both off line to view information about the characters you already have installed, and on-line to search the internet for more characters and monitor character downloads.

When ChatCheck is run it scans your PC for an installed version of Comic Chat and displays a table of any characters you have loaded.
These are initially marked with a

in the installed column.
After establishing your usual connection to the internet, click the Search button and ChatCheck begins to search web sites containing Comic Chat characters.
---
During the search an animated magnifying glass and a progress bar are displayed, every website found is given a column in the table and each character found is represented by a face.

Smiling for the new format characters.
Frowning for the old format characters.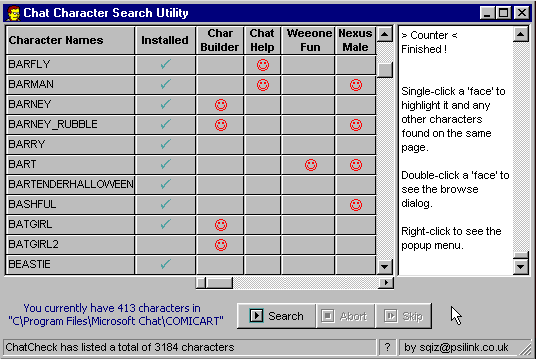 More advanced features of the program are accessed through a menu which pops up when
you right-click the mouse anywhere on ChatCheck. Using the popup menu you can :
See which versions of ChatCheck and Microsoft Chat are installed.
Show the versions of your installed characters.
This is important since the new format characters can not be used with old versions of Microsoft's Chat program.
Some new format characters can be automatically downloaded from the internet,
ChatCheck watches for this happening and can list them.
New - Remove unsuitable characters from your computer ( nude, offensive, etc. )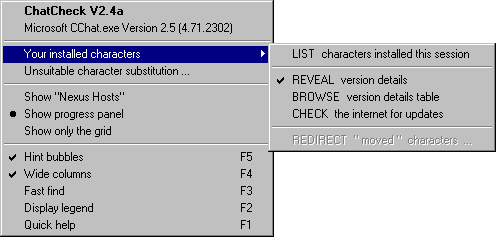 ---
The screen shot below shows a typical ChatCheck session: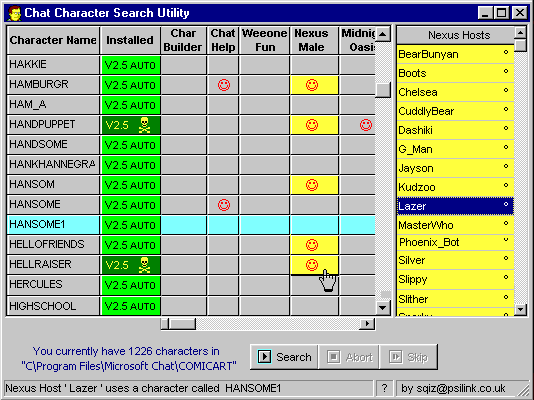 When ChatCheck has finished searching, you can click on any

to highlight it
and reveal all the other characters found on the same page.
Double-click a

to show the URL of the page on which ChatCheck found that character,
you are also given the option of browsing the page.
If you answer Yes at this point, ChatCheck directs your default browser to the site.

Once at the web site, you usually
can preview the character and download it to your computer.