Worried about your children unwittingly downloading
nude or violent Comic Chat characters ?

Well you should be !
Did you realise that approximately 5% of the characters contain at least one pose which could be considered
rude, nude, horrific, distasteful, or downright pornographic ?

Okay, Now I have got your attention lets not get carried away.
There has always been a problem with a minority of users using what can only be described as colourful language in chat rooms. However I do not believe this should prevent you from chatting.

We always had the ability to ignore the messages from especially obnoxious users, and now we need a method to


avoid seeing any unsuitable characters .

ChatCheck 2.4+ now provides a partial solution to this problem
it contains a list of characters which are known to be unsuitable for one reason or another and allows you to control whether or not you wish to see them.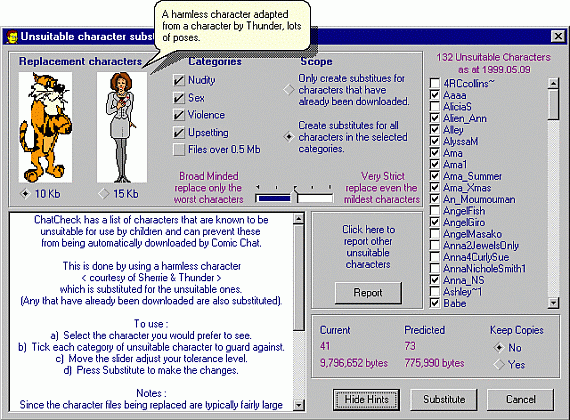 ChatCheck can substitute them with a harmless character.
The list is updated every time ChatCheck does a search.
You retain total control over which ones are substituted.
You can keep copies (if you really want to !).
The substitution screen is accessed from ChatCheck's right-click popup menu
( see the help page for further information ).