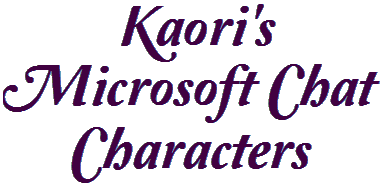 ■ (重要)Microsoft Chatをご使用している皆様へ ■
(Important) To everyone who uses Microsoft Chat
THIS PAGE IS JAPANESE WITH ENGLISH TRANSLATION ADDED!
Translation Provided by: Google Translate
みなさん、MSチャットを知っていますか?
Everyone, do you know MS Chat?
MSチャットとは、 従来のテキスト チャットにグラフィックスを組み合わせた新しい形式のチャット
MS chat is a new form of chat that combines graphics with traditional text chat.
です。
たぶん、チャットの種類で一番メジャーなソフトだと思います(^^ゞ
Probably, I think that it is the most major software in kind of chat (-:
おすすめなので、ぜひぜひこちらでDLして、楽しみましょう! >
We recommend you do so by all means here and let's have fun!
Microsoft Chat 2.5 >> DOWNLOAD

Character Editor >> DOWNLOAD
= お知らせ = = Information =
These files are comic character files for use in the chat program
Microsoft Comic Chat V2.5
Download and 'save' them to your 'COMICART' folder!
C:\Program Files\Chat\COMICART
- or -
C:\Program Files\Microsoft Chat\COMICART
= CONTENTS =
DOWNLOAD
<=== Click the "VOL" Links in the Left Hand Column
現在、自作キャラは142個あります。
As of February 4, 2018, there are 146 self-made characters.
MAIL
キャラ作成依頼はこちらへ。質問も受け付けています。
Request to create a character here. We also accept questions.