The download files in the table at the bottom of this page
are written to re-instate mic:// as a URL protocol!
To download and install the file to repair mic:// as a URL protocol,
follow these instructions:
Left-Click on your selected file, then in the 'File Download' pop-up,
select: 'Open this file from it's current location'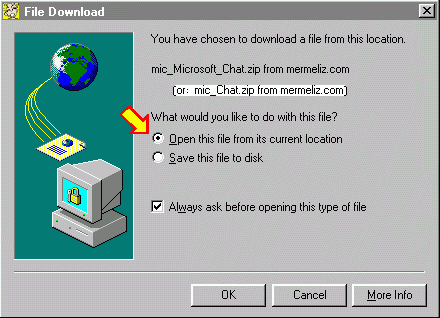 Once the download is completed,
it should have opened up into your unzip program.
There is no need to extract it,
just right click on the reg file and select merge from the pop up menu.
A CAUTION message will pop-up, after you select merge !
Please read the caution message!
Making sure that this is the correct file according to
where your Comic Chat program is installed,
Click OK !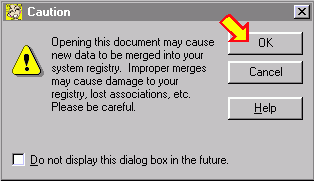 A Registry Editor message will then pop-up and ask if you are sure
you want to add the registry information.
Click YES !

After you click yes, a second Registry Editor message will state
that the information was successfuly added to the registry.

Congradulations!
You have successfully restored the mic:// prefix as a URL protocol.
There is no need to reboot.
The mic:// link will immediately start working.
To test the registry restoration, you can go to the Servers/Rooms Page
and click on one of the server links.
It should open your Comic Chat program and connect to the server you just clicked on.
See you in the Comics!
~Mermy